Semi Inground Pool Construction
Semi inground pools have many benefits.  Semi inground pools usually require less digging.  This is beneficial because it also means less messing around with utility  lines.  These pools require less material to be removed from your yard and less tree roots to dig out and haul away, thereby lowering your excavation costs. In addition, sinking a semi- inground pool several feet below the ground often makes it easier to manage pipes and pumps.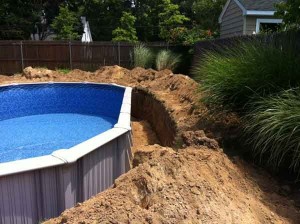 Semi inground pools are installed partially above and partially underground. This allows for the installation of the pool in a wide variety of backyards, if you have a backyard that slopes, this is the pool for you!
Round or oval, large or small, our stylish semi inground pools will complement any backyard decor. Unlike other pools, the semi inground swimming pool, is made entirely of aluminum construction which is the preferred material because of its resistance to rust.
Trust Dunrite Pools to provide you with an aluminum pool that exceeds your expectations and delivers great summer fun with the quality and safety you deserve.
• All-aluminum construction
• Slip-resistant finish on coping
• Painted aluminum bottom track
• Stainless steel fastener
• Top and bottom clips made from extruded aluminum
Is a Semi Inground Pool Right For You?
While the pool is a literal halfway point between inground and aboveground, it has its own niche. It is marketed to people who are willing to spend a little more money than the cost of a traditional above ground, but don't have quite enough to invest in an inground pool. Thanks to the semi inground pool, customers have a wider range of options to accommodate their budget.