Are you wondering about putting salt in your pool?
The AutoPilot Sanitizing System requires a salt level of 2500 to 3000 parts per million (ppm) for operation?
Compare that to:
Sea Water – 35,000 parts per million (ppm)
Human Body – 4,000 parts per million (ppm)
Saline Solution for contact lenses – 6,000 parts per million (ppm)
Four parts per million of Chlorine is ten times as corrosive on stainless steel than 4000 parts per million of salt. AutoPilot Sanitizing Systems operates at only 2500-3000 parts per million (ppm). Your taste level for salt is approximately 3500 parts per million. That is 20% higher than the normal AutoPilot operating range!
AutoPilot Sanitizing Systems offers all the advantages of salt.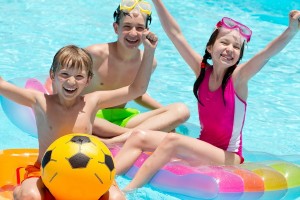 Softer feeling water… Feels silky to your skin
More compatible with eyes, NO MORE RED EYES!
Low Cost
A consistent salt-to-water ratio level must be maintained. There are a few factors which determine the amount of salt you add weekly or monthly to your pool water.  These factors include the amount of rain, the amount of backwashing you do to the pool, as well as the amount of water lost due to splashing or draining of the water.  Read More

Why Buy AutoPilot
1. Increased Pool Ownership Satisfaction:
          Never buy, transport and store chlorine again
          Softer, silky feeling water – Better on your skin and hair
          No more red eyes – No staining of clothing
          No chlorine odor
          Automatically solves most of your water chemistry problems
          Sanitizes your pool every day – No vacation worries
2. Protect your pool finish investment by:
          Better water chemistry management – day in day out
          No algae growth to stain your surface
          Continuous super chlorination eliminates need for harsh chemical shocking
          Produces close to neutral pH to prevent radical shifts in water balance
3. Increase safety for your family:
          ETL approved for swimming pool application
          No handling or storage of harsh chlorine products
          Continuous in-line super chlorination guarantees healthy water
          No caustic by-products
4. Easier pool maintenance:
          Ease of operation – chemical regulation at your fingertips
          Economical to operate – less electricity usage than a 200 watt light
          Water balance is more stable – virtually eliminates the need for super chlorination, algaecides
and other support chemicals
Salt Chlorine Generators by AutoPilot!
For 30 years, AutoPilot has been producing the finest Salt Chlorine Generators (electrolytic chlorine generator systems) for your pool. We are your most reliable source for chlorine generators – the most sought after form of alternative pool sanitation available in today's marketplace. By adding a minimum saline level in your pool, the equivalent of one teaspoon per gallon of water, and our salt conversion cell, we can show you the way to trouble free pool maintenance and the most luxurious, softest feeling water imaginable – everyday, the natural way.
Never worry about manually adding chlorine to your pool again. Never deal with irritating dry skin or red eye syndrome. Never buy, transport or store chlorine again. AutoPilot guarantees perfect pool water with our chlorine generator.

AutoPilot / Salt Systems / Copilot Ozone / Dig220
Autopilot 75003 Digital Owners Manual
Autopilot Digital Nano Owners manual